07beach recreates the nostalgic pixelation of old video games
Architect Joe Chikamori of 07BEACH recently completed "Kaishin No Ichigeki", a video game inspired ramen shop in Okinawa, Japan. The name of the restaurant, chosen by the customer, is a characteristic phrase from an old role-playing game (RPG) guaranteed to make the inhabitants nostalgic. The architectural design clearly references the pixelated, dot-like interface of those earlier video games which Chikamori has abstracted to some extent to avoid a cheap, childish aesthetic.
the curly noodle-inspired white pattern covers the front like an abstract checkerboard pattern
all images © Yoshiaki Ida
use ordinary materials to build a freshly unique interior
07BEACH (see more here) used common and inexpensive materials, like white ceramic tiles, wood, cement, and carpet tiles, to build the ramen shop — combining them in playful ways to create a freshly unique space.
For example, Chikamori covered the walls in a wavy noodle-like pattern using white tiles on gray mortar. 'The pattern would be more recognizable if spaced out further, but that might detract from the overall aesthetic, so something like an abstract checkered pattern was applied to leave room for a bit of curiosity and taste," explains the architect.
Another playful detail appears in the placement of the condiments. The client initially wanted to keep them hidden to avoid a messy table, but 07BEACH had a better idea. 'We decided to display the condiment as if it were something you can get in a video game, so we placed them on pedestals that look like pixelated blocks. Surprisingly, the condiments made the interior much more beautiful.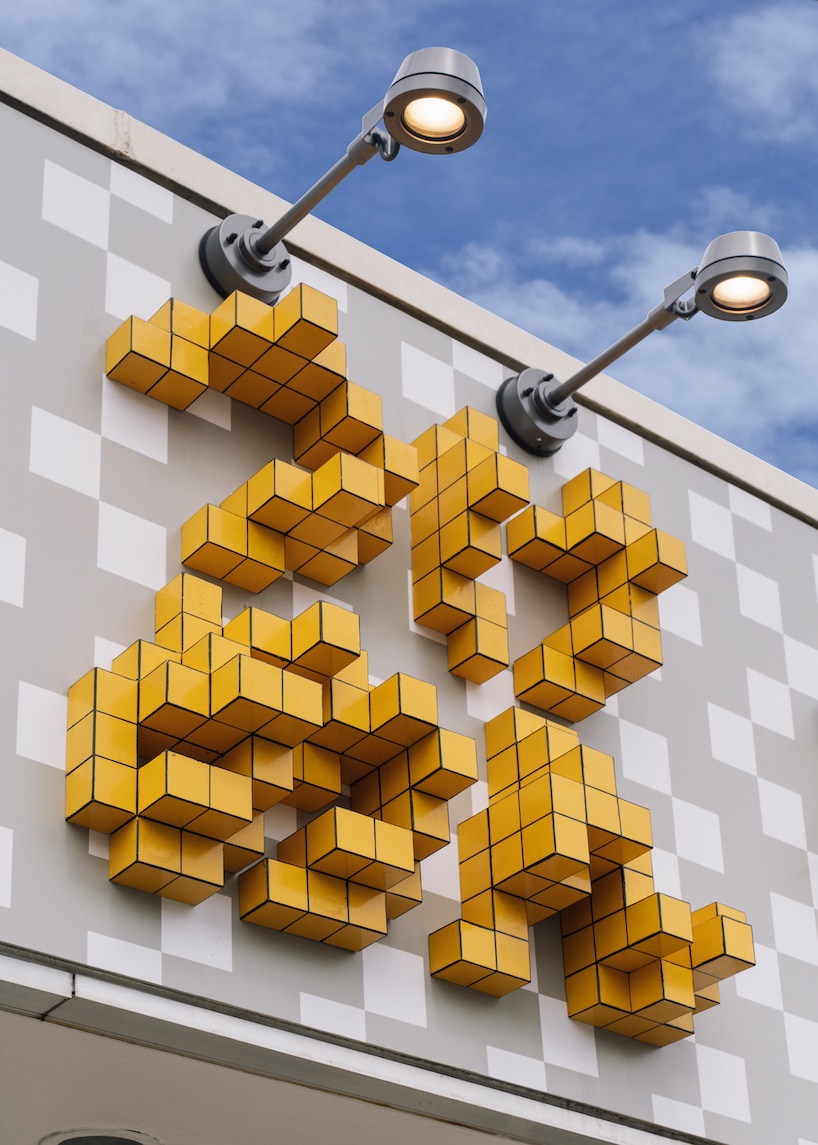 'つけめん' (dipping noodle) refers to the shop's signature dish
it's all in the details
Meanwhile, Chikamori designed a seating area for groups resembling a play castle with a low wall to prevent children from falling and create some level of privacy. Here, wood and ceramic tops are paired with green carpet tiles that mimic RPG fields.
Moving on to the more "public" area of ​​the ramen shop, the architect decided to "break up" the geometric feel by installing ready-made round legs on each stool. 'These are foreign to the interior consisting only of squares and straight lines, but such a little design noise makes the overall space more user-friendly," he concludes.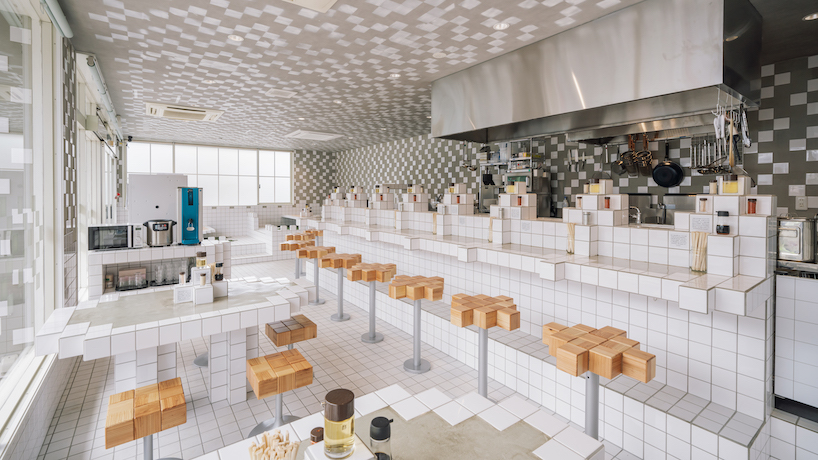 the materials are common, such as white tiles + wood, but the way they are combined makes the space unique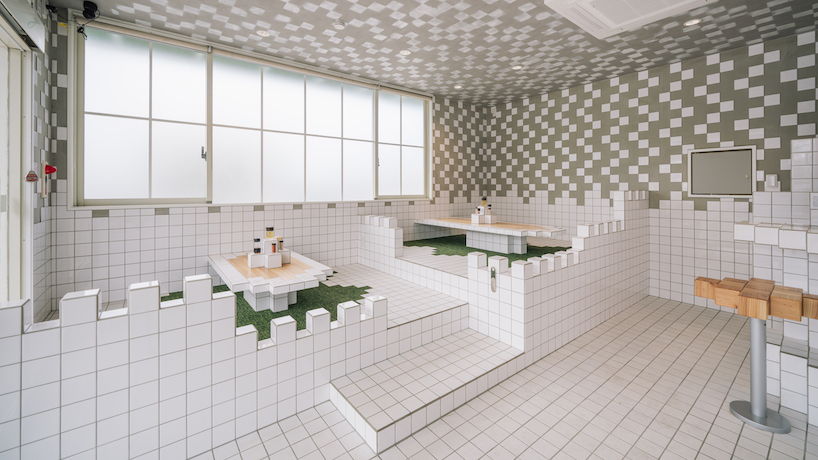 seating for groups, surrounded by a castle-shaped wall to provide more privacy