The image of a small basement apartment conjures up images of dark, damp spaces that most of us would probably prefer to avoid. Which architect Martin Hopp has done to this 720 square foot apartment in Chelsea is pretty miraculous, proving that not all basements are created equal. Despite its limited square footage, Hopp uses white and has created smart space-saving elements that make the most of every square inch.
The all-white saloon benefits from built-in seating and cabinetry offering plenty of storage space. A dining table swings out from a row of cabinets, aligning it with one of the banquet seats.
Despite the absence of windows, the interior is bright thanks to the white surfaces and hidden lights. Folding doors allow the living room to be separated from the rest of the apartment for more privacy.
The tiny bedroom still feels spacious with everything tucked away behind custom minimalist storage.
In the private areas of the apartment, wood paneling covers the walls and ceiling for a uniform look. Hidden lighting runs along both sides of the ceiling in the hallway to keep it lit without light fixtures.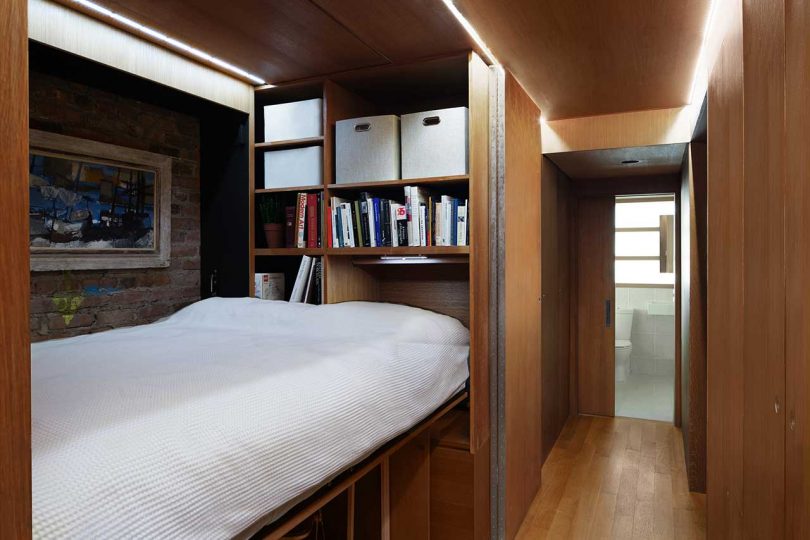 The hallway hides a compact space that houses storage and a Murphy bed that folds up for overnight guests.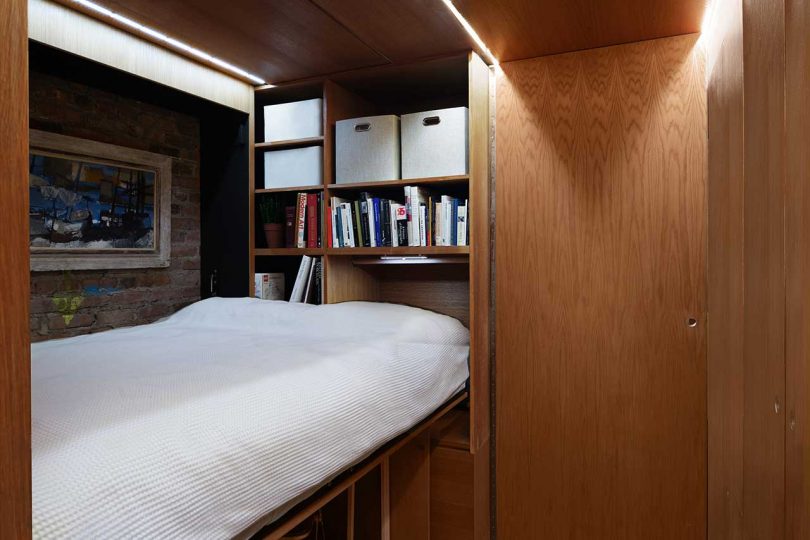 When the bed is folded up, the space can be used as a desk.
At the end of the hall is the only bathroom which has backlit wooden shelves that make it bright, as if there were a window inside.
The entrance to the apartment is via a few stairs protected by a wooden fence filled with potted plants.
Photos by Fei Liu.