anahat farms by ant studio mixes futuristic and vernacular indian architecture
A sinuous volume rising from the ground, the farms of Anahat at India is a distinct experimental fusion of futuristic and traditional architecture. Complemented by local practice Ant Studio, the structure flows and wraps around an existing family closed building with new openings and courtyards that let nature infiltrate.
Home to a family with an immense passion for animals and the sport of polo, the former stable farm housed a three-bedroom structure with minimal connection to its context. the architects had the choice of building from scratch or adding another floor and renovating the old house. With deeply rooted beliefs in the practice of sustainability, the team decided to avoid demolishing the house and instead invest in more eco-friendly and experimental choices.
Lead Architect, Monish Siripurapu, comments: 'We firmly believe that architecture should be a mixture of the past and the future. With the help of computer tools, we were able to align the vernacular of Indian architecture with the new language of fluidity that seeks to break the boundaries of architectural achievements..'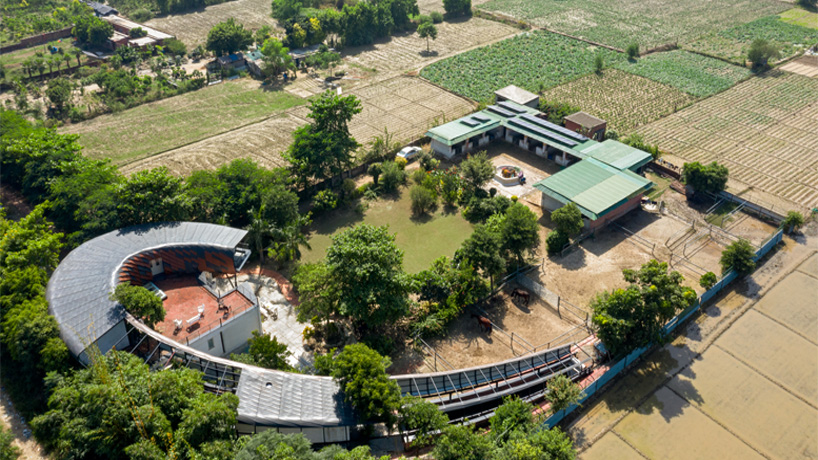 a new floor extension that wraps around the old house
The new floor – hosting the bedrooms and living areas – rises like a spiral to the top of the old house, connecting the various elements found along its route. The skin is made of zinc panels, a durable and effective material against the harsh climate of North India. Ant Studio angled the louvered panels to diffuse the sunlight and allow natural ventilation into each space without breaking the framed views.
The ground floor features a sculptural installation that welcomes guests at the entrance and separates the foyer from the living room by a porous, fluid screen. The architects fashioned the sculpture using recycled terracotta tiles from the building's old roof, reducing construction waste.
openness to the landscape while retaining pockets of privacy
The interior of the existing home has been revamped using a subtly enigmatic palette of exposed material textures. The cemented brick and lime walls, paired with the terrazzo and polished concrete flooring, provide a stark yet soothing contrast to the immensely futuristic facade. This intuitive distinction between exterior 'form' and interior 'function' has created warm, nostalgic spaces that evoke the family's childhood homes.
Concluding the overall design approach, Monish says: "the final form is both open to the environment while being private to the residents. Our goal was to achieve pockets of privacy within an open natural setting, in a building with enormous opportunities for openness to the surrounding landscape.'