"I never imagined I'd be building," says owner Courtney Gerstenhaber, who despite that statement has kept a wishlist and must-have list, just in case. For seven years, she wrote things down — like storage for dishes and a place for caterers to put food — that she would want in her dream family home.
When Courtney and her husband Greg finally decided to go the custom route, they used these notes as a reference guide while working on designs with architect Christy Blumenfeld of Blume Architecture. "I kept checking that list to make sure I was hitting the highlights," Courtney says.
Sheri and Raegan Barringer of Barringer Custom Homes brought the Gerstenhabers University Park home to life through construction, with Sheri Barringer Designs handling the interior design. Courtney, Blumenfeld and Sheri Barringer met weekly for over a year to discuss ideas, make design decisions and resolve issues as they arose. Courtney says it's this close collaboration that has helped the team understand exactly how the family lives.
The professionals have created flexible spaces in order to meet both the daily lifestyle of the family and their frequent entertainment. Pocket doors were a key feature throughout the home, allowing it to feel either large and flowing or intimate and private, depending on the situation. Positioned adjacent to the kitchen and breakfast area, the rear patio is accessed through a set of sliding doors that can also be completely concealed, providing a seamless flow between indoor and outdoor spaces. "We feel like it's an extension of our home," Courtney says of the outdoor living space. Even the pantry got a pocket door so Greg could whip up his daily smoothie at 6 a.m. without waking the whole family.
We feel like we have so many different environments to enjoy.

Owner, Courtney Gerstenhaber
Another essential room was the dining room, which serves as a gathering place for family gatherings as well as the large-scale events that Gerstenhabers often host. The space between the dining room and the bar was deliberately left wide enough to accommodate a second table, allowing up to 24 guests to be accommodated. "It was a big layout headache to figure out how to do this and not make it look like one giant space when there's not that second table," says Blumenfeld .
Of course, someone who likes to entertain a crowd also needs enough dishes to feed one. As she prefers to have 40 place settings in each design, Courtney wanted enough storage space to comfortably and conveniently store her extensive collection. Unlike their old home, where sets were stored in a few different places, she worked with her team to create a dedicated storage space in the bar for crockery, cutlery, etc., making it easier to set up the table as well as cleaning and tidying up after the events. Indeed, the bar area is the heart of the house, visitors gravitate there during the evenings. "It's a dual purpose as it serves the dining room or it's your intimate gathering [space] for small groups," says Courtney.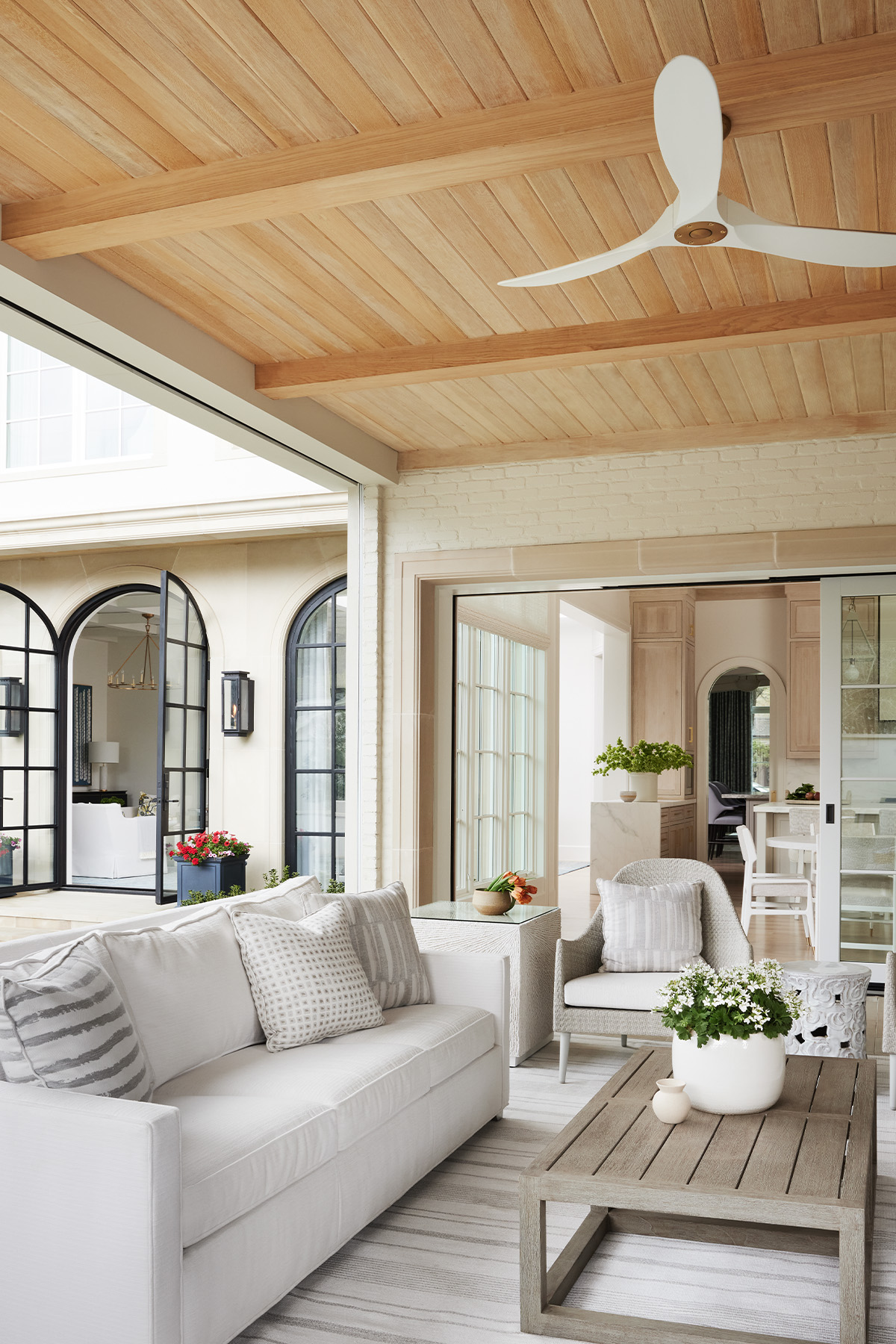 But with three children in the house, formal and adult gatherings weren't the only type of accommodation the family wanted to create space for. "I wanted a place where our kids could hang out and have a chill space to entertain friends," Courtney says of the upstairs playroom. In addition to built-in bunk beds and a trundle bed, the room has swivel chairs and a modular sofa that easily adapts to the needs of children. No worries about spills, either – all furniture in the room, and most of the house, is covered in performance fabric for easy cleanup of the inevitable messes. Courtney says of the finished product, "We feel like we have so many different environments to enjoy."
How to build a timeless house
Bridging the gap between timeless design and modern sensibility can be tricky. Designer and builder Sheri Barringer and architect Christy Blumenfeld note these key factors for creating a new home that will stand the test of time and trends.
Don't get stuck in an era.
Blumenfeld says the biggest compliment of a new home is when people can't identify if the house was remodeled or built from scratch. "The shell should not have a timestamp."
Balance a traditional exterior with a modern interior.
"I think it's important that new builds have strength and have traditional elements and proportions," says Blumenfeld. "But I think they need to feel young and the interiors can be light, bright and airy. That's where you bring the modernity.
Use textures and light to add interest.
Sheri Barringer says it's the abundant natural light that makes the traditional home feel fresh. A variety of textures — from woven rope chairs on the patio to looped dining chairs in the breakfast room — make modern furniture warm and inviting.
Author