Easter is the biggest holiday for Jeep enthusiasts. No, the rabbit doesn't drive a Willy's… as far as we know. But every year, Jeep hosts an Off-Road Festival in Moab, Utah, where engineers showcase their latest wacky ideas. It's called the Easter Jeep Safari.
The Jeeps you see at Safari are concept cars – one-of-a-kind vehicle builders built to explore possible design directions. And while most of the vehicles shown at Safari never see production, a few new products made their first appearance on the red rocks of canyonlands in the spring.
This year's stable will include a few one-offs that will almost certainly never be built for sale, a few of the more recent Safari concepts appear dealer-ready.

Jeep Magneto 2.0
The title is an update on the one we've seen before. But it's still a favorite, so we're happy to see it reappear.
The Jeep Wrangler Magneto is an all-electric Wrangler with a manual transmission. Yes, an EV with a stick.
Jeep first introduced the Magneto at last year's Safari. This year it will present an improved version. It now boasts 625 horsepower and 850 lb-ft of torque. It sits on 40-inch wheels and uses the transmission from a Dodge Hellcat despite the fact that EVs don't actually need transmissions. The engineers built it for pure shifting fun.
Unfortunately, we never expect to see it hit production. Enthusiasts may want to retain the three-pedal ride feel in the age of electric vehicles, and this is proof that it is possible. But its complexity and cost probably make it unprofitable.

Concept Jeep Bob
Bobbing—the practice of shortening a truck's bed to give it shorter overhangs for better departure angles—is a common off-road modification done in shops across America. The Jeep Bob Concept simply takes that idea and executes it with factory polish. It's a Gladiator bobtail, with 3 inches of extra ground clearance, Dynatrac Pro-Rock 60 axles and King Coils and Bypass shocks.
It will hit production when its beadlock tires are street legal – which is probably never.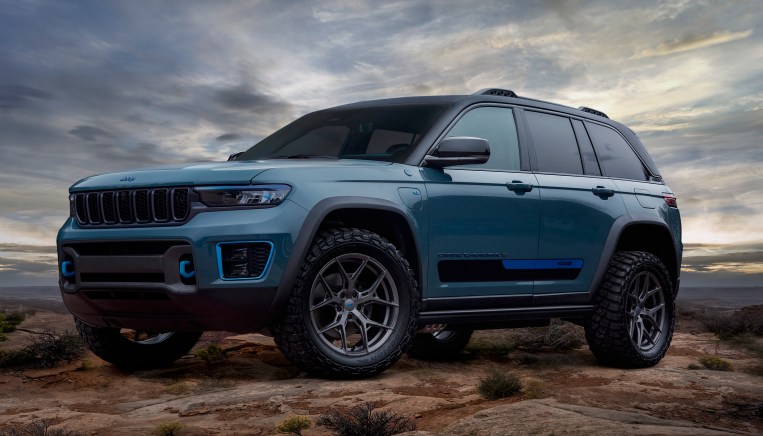 Jeep Grand Cherokee Trailhawk 4xe Concept
Now this is probably a production test.
It's simply the Grand Cherokee 4xe plug-in hybrid equipped with the Trailhawk package available on gas-powered Grand Cherokees. This would allow near-silent off-road driving in electric-only mode while providing buyers with everyday driver convenience and the endless range of a hybrid. We'd be shocked to not see this for sale eventually.

Jeep Wrangler Rubicon 20and birthday concept
The Wrangler Rubicon turns 20 in 2023. Perhaps it's a preview of how Jeep will celebrate the occasion.
It uses the V8-powered 392 Wrangler Rubicon as a starting point and adds a red interior. With 2 inches of extra lift and 37-inch mud tires, it's ready for the trails. Half doors and an electrically folding hood complete the package.

Jeep Concept '41
It wouldn't be a Jeep event without a nostalgic model. The '41 concept gets a drab olive paint job reminiscent of WWII Jeeps and a modern military-design digital camo upholstery pattern. The 17-inch wheels look like classic steelies, but are actually powder-coated alloy rims.
It looks classic, but the running gear is as modern as it gets – it comes from the Wrangler 4xe plug-in hybrid.
It's unclear if this will see production, but since this is essentially an appearance package for the Wrangler 4xe, it could easily.

Jeep D-Coder Concept
Jeep says it's "a rolling catalog of factory-tested and warranted items available for purchase by customers." It contains 35 Jeep performance parts or Mopar accessories, each painted with a barcode. Scanning them takes you to the web page to order each part.
This is obviously a sales tool, so we won't waste your time.

Jeep birdcage concept
Another concept built on the Wrangler 4xe plug-in hybrid, the Birdcage is an open-air off-roader. Its roll cage is topped with a 600-pound Rhino Rack cargo basket. Taillight guards protect the taillights. Removable covers protect the daytime running lights. And a custom rock slider under the panel protects all moving parts.
We like the tobacco brown interior, but there's little reason to believe it'll make it to showrooms.