The 2023 Kia Sportage is an all-new design
The old Sportage had a reputation for being a very well-equipped small SUV that looked a bit odd. The new one is well equipped and beautiful
A plug-in hybrid (PHEV) model can travel up to 32 miles on electric power alone
Pricing for the 2023 Kia Sportage starts at $25,990 | Price your way
On sale now | See Kia Sportage models for sale near you
It's hard for a compact SUV to stand out. Americans buy a LOT of small SUVs, and manufacturers offer them dozens of choices. The Kia Sportage has always been a well-equipped choice but has never looked good until now. Completely redesigned for the 2023 model year, the all-new Sportage is now a beauty inside and out. Pricing ranges from $25,990 to $36,790 (PHEV pricing not yet available).
Passenger space and comfort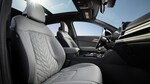 Since the Sportage's last redesign, Kia introduced a new, smaller SUV, the Seltos. To differentiate the two, Kia has enlarged the Sportage for 2023. It's now almost mid-size.
In the front seats, you will find the cabin typical of the small SUV category. In the rear seats you'll find more space than many rivals – adults can fit in comfortably.
The seats are comfortable all day, and even the base LX model comes with heated front seats. Higher trim levels can select electrically adjustable heated and cooled front buckets.
Features and Technology
Most Sportage models use a 2.5-liter inline-4 engine that produces 187 horsepower, which is similar to what you get in a Honda CR-V or Mazda CX-5. Hybrid models get more power – 226 horsepower thanks to the combination of a 1.6-liter turbocharged 4-cylinder engine and an electric motor. The PHEV model is the top performer of the bunch, with 261 total horsepower and up to 32 miles of all-electric power before the gas engine kicks in.
Cabin tech, however, is where Kia really sets the Sportage apart.
A large, curved screen takes up more than half the width of the dashboard and takes up most of your attention at first glance. It's actually two screens: a 12.3-inch digital instrument panel for the driver and a central 12.3-inch touchscreen that handles the climate and entertainment functions. Angled air vents give the dashboard a cool, high-tech look. The setup is standard on all but the base LX model, which uses an 8-inch touchscreen for infotainment.
Apple CarPlay and Android Auto are standard equipment, as is a built-in Wi-Fi hotspot.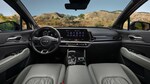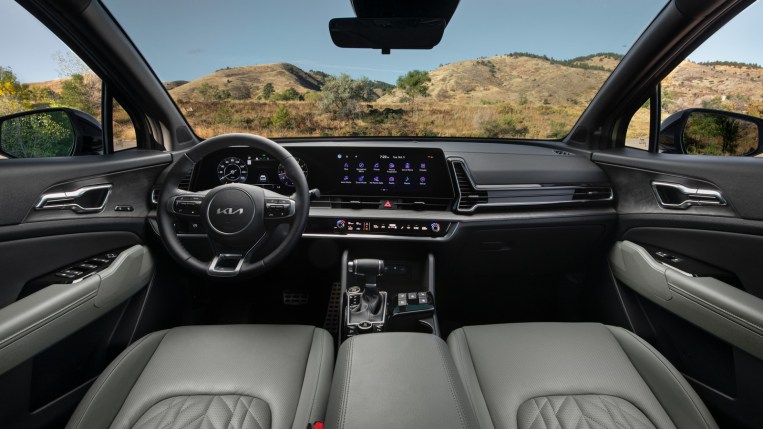 Kia's Drive Wise safety system includes forward collision-avoidance assist with pedestrian and cyclist detection, lane centering and a driver attention monitor that will warn you when you're too tired to drive while driving. completely safe. There is no additional charge for any of the safety equipment.
All Sportage models use an 8-speed automatic transmission. Front-wheel drive is standard for most models, with all-wheel drive (AWD) optional. All-wheel drive is standard on two off-road-oriented versions.
The 2023 Sportage lineup consists of seven models. The base LX is well-equipped, but the EX adds a few cosmetic upgrades in addition to the two 12.3-inch screens. The SX version adds a power tailgate and a sunroof. SX Prestige pushes the boundaries of luxury with vegan leather and surround-view cameras.
The X-Line model gets a bit more off-road capability, with 19-inch wheels, a roof rack and water-resistant SynTex seats. The X-Pro models go even further, with a multi-terrain riding mode selector that adapts to different surfaces. The X-Pro Prestige is the kitchen sink model, with all the off-road gear and all the luxury goodies.
Materials and design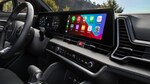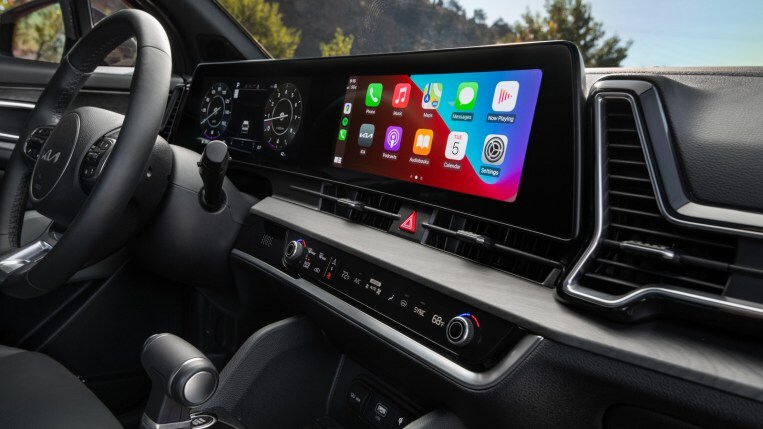 Kia has completely redesigned the Sportage for 2023, transforming it from a slightly clunky runabout to one of the best looking compact SUVs on the road.
Kia calls the look "digital tiger" – a new design language that debuted on the sleek EV6 electric sedan.
It looks fantastic stretched to SUV proportions, combining angular features like chevron daytime running lights with a curved bonnet and sweeping character lines in the doors. Higher trim levels get optional two-tone paint with a contrasting colored roof.
As good as it looks on the outside, it looks better on the inside. This large curved screen looks futuristic. The seats, in SynTex or vegan leather, are also two-tone, with a chevron stitching pattern that looks more expensive than it is.
Cargo space and flexibility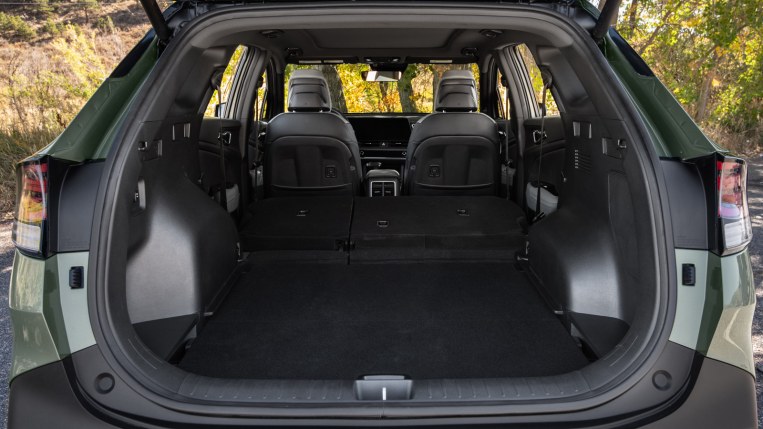 The Sportage has grown to almost encroach on midsize SUV territory. Behind the front seats is 39.6 cubic feet of cargo space, more than you find in a Toyota RAV4. Fold them up and you've got a class-leading 74.1 cubic feet. That's almost on par with the Sorento, the Sportage's big brother.
More Kia Sportage 2023
Build and appraise your 2023 Kia Sportage to see this week's fair buy price, 5-year cost of ownership, and more, or see Sportage models for sale near you.