CASPER, Wyo.– After about a year of hard work getting its warrior-themed shop ready in downtown Casper, Barbarian Coffee Roasters is almost ready to open.
The Casper Area Chamber of Commerce will participate in a roasting and coffee groundbreaking ceremony during its grand opening on Tuesday, July 26, owners Jon and Gayle Ramsey said Friday. Barbarian Coffee Roasters is located at 136 S. Center St.
Jon started roasting in the family kitchen a few years ago before moving to the garage. His introduction to coffee happened one night while working as a police officer in North Carolina.
"One of my shift partners brought me a cup of coffee one night," he said. "I had never really drunk it before. I was like, 'Okay, it's okay,' and it was like Folgers or Maxwell House, wasn't it? But then I realized that it could be a pretty decent strategy to keep you awake and alert at night – for the caffeine, obviously.
"So I started drinking more of it. The more I started drinking, the more I started to notice how different coffees tasted different.
After discovering a favorite coffee in North Carolina, Ramsey became increasingly interested in java and the process of making a flavorful cup.
A few years ago, the Ramseys moved out so Jon would join the Casper Police Department. One evening, the family was watching a movie and the idea of ​​opening a coffee shop and a donut shop germinated.
"If I were to do this, we would need really, really good coffee," Jon said. "So I started thinking, 'Well, where can I buy the coffee?' Because I would like to be known for good donuts, good coffee. The more I started to research, the more I was like, "Okay, the best way to get the best coffee is either to go to a very good roaster who knows what he's doing which is to roast it yourself so it's super fresh."'"
Barbarian Coffee Roasters offers four different roasts and uses beans from an importer called La Bodega.
"They're a sister importer to a bigger importer called Cafe Imports, but they work really hard to source from good farms to make sure it's fair trade," Jon said.
The four types of small-batch fresh roasts Barbarian Coffee Roasters offers include "For God and Country", "Way of the Warrior", "Giant Slayer" and its signature – "Barbaric".
The Barbarian Coffee Roasters will eventually serve espresso, but when it opens on Tuesday, people will be able to walk in and enjoy drip coffee and conversation. The interior of the shop includes a bar built with the help of Gayle's father, sofas and chairs, a fireplace, a chess set – a favorite game of Bella, the daughter of the family – and pieces on warrior theme.
"We wanted to build a place where veterans and law enforcement could create a community with each other — give a safe and welcoming place for everyone," Gayle said.
Jon participated in deployments to Afghanistan during his time in the Marine Corps between 2008 and 2012. After his military service, he entered law enforcement. Military service and law enforcement can be difficult not only for those who serve, but also for their families, and the Ramseys wanted to find ways to give those families a place where they can come together.
"The main goal is to be able to give back to the local community, veterans and law enforcement here in this community," Jon said. "And their families too, because it's a big thing that people forget. It all depends on the person doing the work, but families also have a hard time and no one ever sees it.
"So to be able to provide a way to give back to that – for us, that's huge."
The family have loved Casper since she moved from North Carolina. When it came to choosing a location for Barbarian Coffee Roasters, Gayle wanted to find a place downtown because of the area's atmosphere and the people who strolled there.
It took about a year of hard work to get the Center Street store into a ready-to-open state, with the family doing the remodeling of the space themselves.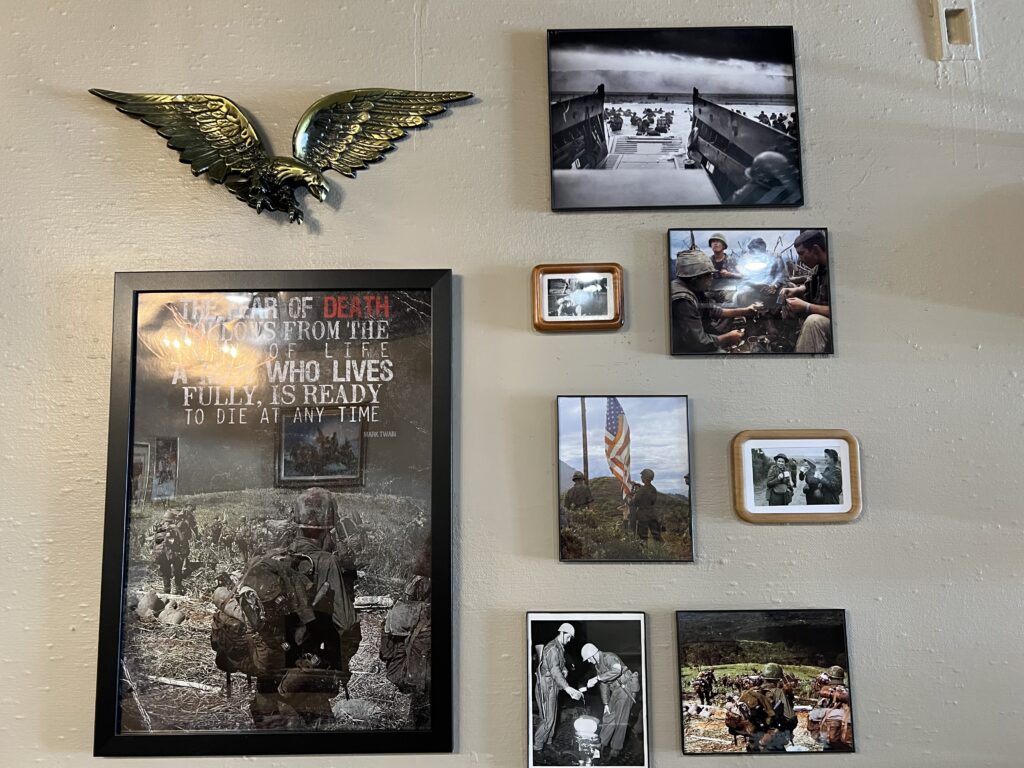 While there won't be donuts when Barbarian Coffee Roasters opens, there might be one day, with the Ramseys open to partnering with someone.
"We would just have to find someone who made really good donuts," Jon said.
The Ramseys are thrilled to finally be able to open the doors on Tuesday and invite anyone who wants to try a coffee and have a chat to stop by.
"We want people to come and hang out together doing, you know, Bible studies or whatever they want," Gayle said.
If Bella's in the store, she might be up for a game of chess.