Sean Godsell is an architect of the old school. He draws by hand, details by sketch and supervises on site, in person. An avid reader and skilled writer, he nurtures the lessons of history into his buildings and bemoans contemporary design as uniform and unintelligent. "My strongest asset," says Godsell, "is my background in architectural history." Unsurprisingly, developers don't feature prominently on his list of clients.
This unrepentant nonconformity, though celebrated by the international intelligentsia, has tended to make Godsell a cult figure. Especially within hardline postmodernism and Melbourne eccentricity, Godsell's ultra-principled stance has long seemed eccentric to the point of anachronism. So far. Now, at last, that very steadfastness is recognized as a promising key to an increasingly uncertain future.
A walk through Godsell's oeuvre reveals several enduring themes and motifs – the freestanding box, the lift-up flap, the shadow skin, the parasol, the split plane, the quirky tower. At first glance, such an iteration suggests a certain formalism – adherence to a look, a style or a guru. It's tempting to see the elegant plans like Miesian, to discern a touch of Murcutt or Leplastrier in the screened verandas and simple lift-up shutters, to compare the Vatican chapel to the permanent campsite so similar to Casey Brown in Mudgee. But that would be misunderstanding.
Godsell has never heard of Permanent Camping, he only recently met Murcutt and "doesn't even own a book on Mies". What really happens with Godsell is both more personal and more interesting: a body of work that has evolved over decades from the basics and on its own terms.
Perhaps for this reason, the themes and motifs are all interdependent, both in space and – having evolved relative to each other – in time. The freestanding box is Godsell's signature. In half a dozen houses in 20 years, the party box has reappeared so often that with the naked eye, the works could blend into each other.
But this box, being made of glass, requires shading. This brings the outer skin into play, which is a combination of a rusty or wooden filigree screen and a lift-up window sash. In turn, the double skin creates a space that easily expands into the unplanned space of the veranda, common territory between the colonial house, with its spinal corridor, and the Japanese divided plan (where the veranda doubles as a exo-circulation). The parasol, sometimes solid with shutters, sometimes filigree, is the horizontally inclined shade skin, while the tower is the upright box shape.
Abstract, disciplined and minimalist to the point of austerity, the work seems to be part of International Style Modernism. But it is a modernism warmed and complicated by externalities – a modernism separated and "recomposed", as Godsell puts it, in a way that allows an acute response to context, culture, climate and client. .
"I wanted a counter-position," he explains. "I wanted to achieve all of these things in something as frightening to architects as a box." Scary? I can see that a club can scare its inhabitants, but its architect? "It's dangerous ground," Godsell explains, "because if you stuff it, you just have a boring box. It's terrifying out there.
In truth, there is nothing boring about Godsell's boxes. Ruthless in their integrity, they are carried by this very drama, by their quality of light and their richness of thought, to a kind of gentleness.
Godsell's work, like his conversation, is peppered with references to Japanese architecture – the ever-renewed Ise Shrine as well as the works of Ando and Isozaki and the writings of Tanizaki. Almost every one of his buildings combines a love of shacks, sheds and rudimentary Australian materials with an admiration for the "divided" Japanese plan. This abiding interest can be partly inherited, as Sean's father, David Godsell, was a successful Melbourne architect in the Wrightian tradition. But it is less a formal influence than a source of themes, strategies and ideas, generating an East-West approach to planning and form-making that merges our colonial history with our location, as part of Asia.
And so to work. For many of us, Sean Godsell's name brings to mind his Kew House (1996-97), a cantilevered eighteen by nine meter shoebox whose sublimely simple plan is speckled with light through a fine filigree of steel the color of the central desert. Built for his own family, it was a brilliant experience that cemented Godsell's name in our collective imagination and contained most of the seeds of ideas that blossomed into the work of the following decades.
Kew House is divided longitudinally, on its east-west axis. The long northern half is dedicated to living, the southern half to sleeping. The glass is shaded, at least partially, by the finely checkered panes that form the outer skin. There is no explicit veranda (although in a sense the whole house is a veranda) but also no hallway. The eastern end of the box is dominated by a seven-meter-long kitchen table – the vernacular family altar, what Godsell calls "the center of life". Now, 25 years later, he believes even more strongly that Australian informality means "every home should have an end point at the kitchen table".1
Even before Kew House, hints of Godsell's future design obsessions can be discerned. The P Gandolfo House (Melbourne, 1993-94) surmounts a two-storey portico box with an exaggeratedly simple roof whose beams protrude to suggest infinite extension. The MacSween House (1995) has similar beams but a roof that echoes both Ise Shrine and Godsell's Future Shack (1985–2001).
After the Kew House, however, came a series of riffs on the steel screen bass box: the Peninsula House (2000–02), the St Andrews Beach House (2003–06), the Glenburn House (2004–07), the Edward Street House (2008–12) and the Tanderra House (2005–12) are all versions of this particular dream.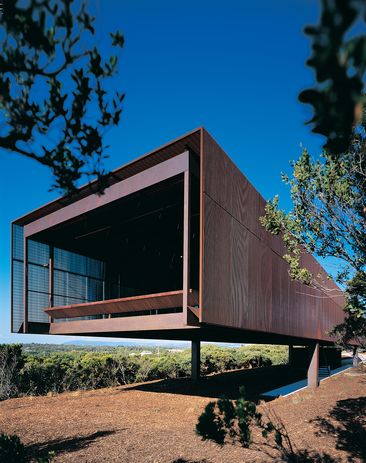 Further developments occur in the House on the Coast (2014-17) – which, for the first time, bends the long box into an L-shaped plane and the vertical wooden screen; the House in the Hills (2015-2018); and the giant parasols that shaded Godsell's entry to the Sydney Modern Project design competition (2015). These huge pergolas, floating above their pavilions, recall the famous verse of Jun'ichir ō Tanizaki: "In making a place to live, we first spread a parasol to cast a shadow on the ground, and in the pale light of the shadow, we have built a house.2
The upright, upside-down box has fewer iterations – the MacSween House, the wooden Carter/Tucker House (1998–2000), Future Shack, and the Kew Studio (2009–13), built as an addition to Godsell's own house. One of the most charming is the Vatican Chapel, designed for the 2018 Venice Biennale.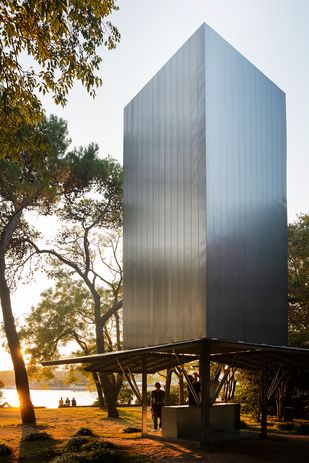 Godsell was one of 10 architects commissioned by the Holy See to mark its first-ever foray into the biennale. The file required a chapel of at most 60 square meters and furnished with an altar and a pulpit at most. Organized by Francesco Dal Co and based on Gunnar Asplund's charming Woodland Cemetery Chapel, the chapels were designed as mobile structures that would move around parishes devastated by the earthquake. As it happened, they became so beloved that they stayed on the Venetian island of San Giorgio Maggiore.
Godsell, raised in the Jesuit tradition and charmed by the spiers of Venice, drew inspiration from his 30-year-old ideas for Future Shack. Loosely basing the design on the 40ft shipping container, he placed the form vertically to accommodate the bells. Light enters through an oculus at the top, a reference to the Pantheon, and the interior is gleaming gold. Godsell's bells, having passed the brief, never materialized but he hopes in the future they might.
Future Shack itself was designed in 1985 but not documented until 1995 or built as a prototype until 2001 – "when I had the money". An early exponent of the current container home craze, it carries some of the formal ideas (the horizontal steel box, the parasol roof) found in later work, but also serves a serious social purpose as as a mass-produced, secure and mobile dwelling for emergency and relief situations. Both stylish and self-aware, Future Shack received a lot of publicity and was exhibited for six months at the Cooper Hewitt Museum in New York. But Godsell says he hasn't found anyone to accept it as a serious proposition and says he's "not interested in starting a manufacturing business".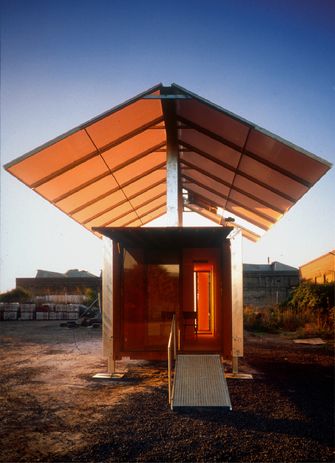 Other philanthropic projects for what Godsell calls "compassionate infrastructure" met a similar fate. Park Bench House (2002), Bus Shelter House (2003–04) and Picnic Table House (2009) stem from his years in London's Notting Hill. Noting that street furniture in general is designed to make sleeping impossible, he deliberately shapes these objects to provide uninterrupted horizontality and some protection. It's ironic that it boils down to what Godsell calls "biting the bear".
"I was an agitator then," he laughs, recalling the disdain with which his Park Bench House entry into the Institute's housing prices was treated. What should perhaps make us think more is why a plea for kindness is considered provocative, even disruptive, and unworthy of design attention.
Buildings can seem almost unforgiving in their purity, but that, says Godsell, is simply "the artifice of architecture." In fact, he says, it is not pure art. "The best forces are those that are alien…You need untrained commentary to take a building out of theory and into reality." 3 This is the role of the customer. "You can't do a good building without a good customer."
He's not a Luddite. The working drawings are made on a computer, the latest houses are entirely "intelligent" and can be operated remotely via a smartphone, and the RMIT Design Hub (2007-2012) will one day, in its full realization, be clad in photovoltaic discs. But still, Sean Godsell realizes his ideas with an old-fashioned blue pencil. When people ask him what program he uses for design, he jokes, "Lead F."
This shameless mix of futuristic imagination and traditional methodology makes him a true architect of the present; a role fully recognized, finally, in its well-deserved 2022 Australian Institute of Architects Gold Medal.