Arranged around a series of gardens that create seasonal outdoor spaces, MJA Studio design director Jimmy Thompson's home – designed in collaboration with Studio Roam and IOTA – was inspired by Australian modernist architects Marshall Clifton and Julius Elischer and of their search for an appropriate vernacular architecture in Perth.
The story begins with an international flight – from Norway, in case you were wondering.
"While waiting for a flight, I saw the block put up for sale," says Jimmy.
"I challenged myself that if I could come up with a good plan for the flight home, I would bid once we landed."
As they say, the rest is history and the site was secured within a month.
Jimmy – who designed the house for himself, his partner and their two cats – was keen to create more space for gardens and courtyards than the site itself.
Specifically, "to flip the typical scheme and make the driveway our front door and the street our back while opening up in party mode to the adjacent park," he says.
"To make things more difficult, we have established a rule that [the house] had to be fully compliant with urban planning codes and had to be generous to its neighbours.
Battleaxe block subdivisions often see old backyards replaced with structures that cover most of the site, leaving little room for gardens.
An ill-defined entrance sequence then results in the new dwelling having virtually no presence in the neighborhood.
It's no surprise to learn that one of Jimmy's most proud accomplishments is that the old nuns who've lived down the street for sixty years also love his new home – proof that great architecture can enrich a community rather than taking it away.
Enthusiastically embracing Western Australia's enviable climate, the house is articulated in such a way that it's nearly impossible to tell where the garden begins and where the building ends.
Sturdy white brickwork reflects the warmth of Perth's brutal sun and provides the enclosure for the home, while glazed blue brick accents are a nod to the surrounding blue tiled roofs.
Recycled speckled gum brings warmth to this simple palette of raw materials, connecting the outdoors to the indoors.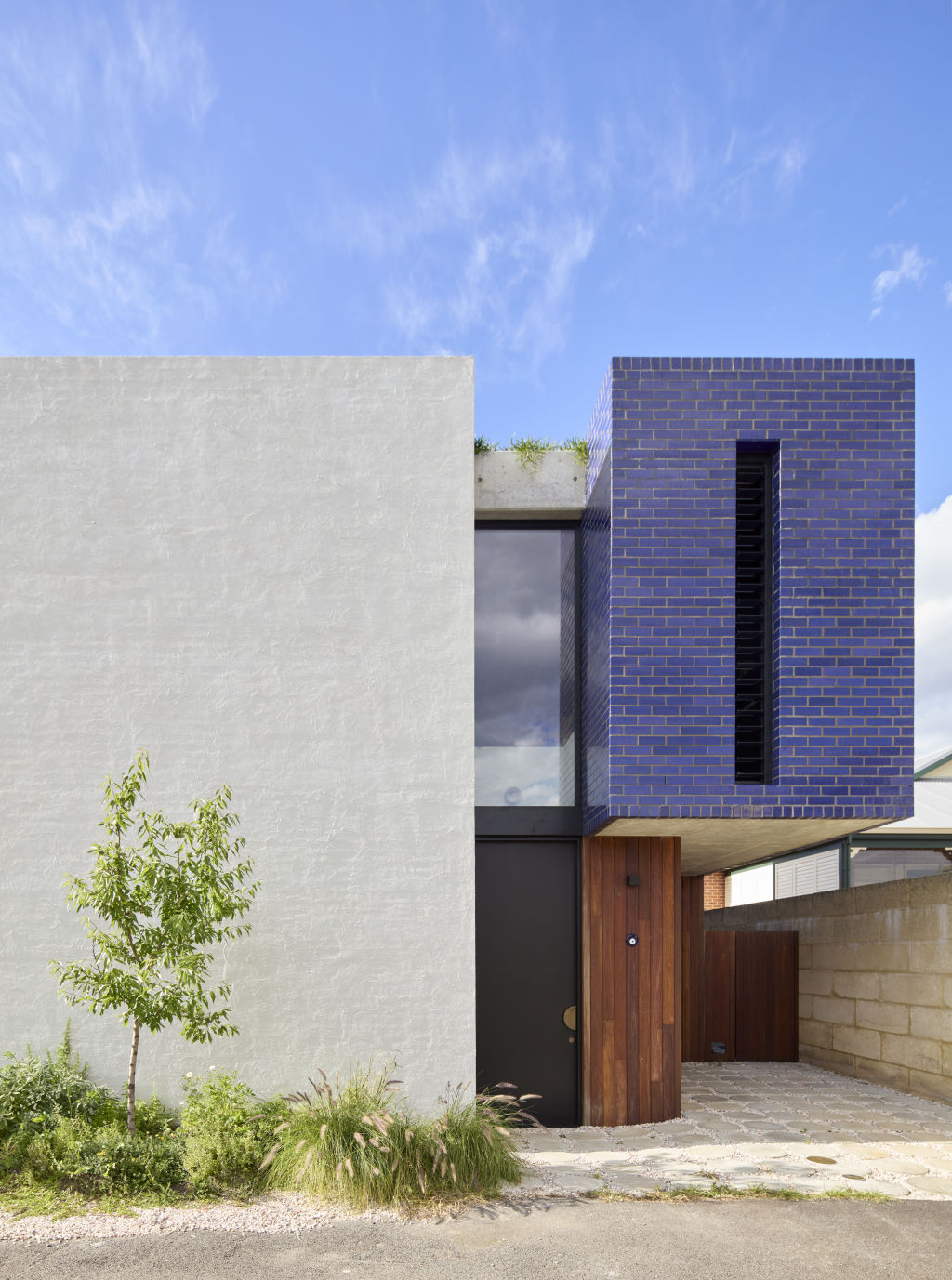 "Designing a long-term home for yourself is an intriguing and challenging prospect," admits Jimmy.
"Being my worst client, I redesigned the project three times, even removing it from the DA process to completely redesign it."
The pain was worth it, because living in a new home has been nothing short of transformative.
"I've always lived in homes that are over 100 years old, which I love, but the chance to live in a home tailored specifically to your lifestyle is an amazing experience," says Jimmy.
"At the end of the day, I feel vindicated that all the advice I've given clients over the past 15 years is true – design makes a difference in the way you live.
"I now find myself working less and spending a lot more time at home. It is a joy for which I am very grateful.